Why an AAHA Accredited Hospital is Important for Your Pet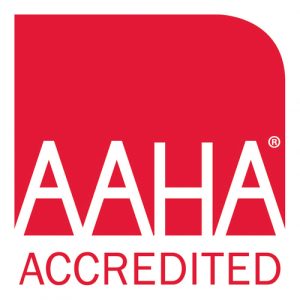 You've probably seen or heard the term "AAHA Accredited" while in our facility or visiting our website…but, what does it really mean and how does it affect you and your pet?
Here at Lone Tree Veterinary Medical Center, we take immense pride in our AAHA accreditation and are delighted to share with you the ways in which this esteemed designation benefits your pet.
What is the AAHA Accreditation?
AAHA is the acronym for the American Animal Hospital Association, a professional organization founded in 1933, for the purpose of establishing a respected and reputable accreditation program for veterinary hospitals. As the only organization in the United States and Canada that provides accreditation for veterinary hospitals, AAHA represents the 'gold standard' for veterinary hospitals across North America.
Unlike human hospitals, where similar accreditation is mandatory, the AAHA accreditation process is voluntary. Only about 3,600 (12-15%) of all small animal veterinary practices in the United States and Canada are AAHA accredited.
How Does a Practice Become AAHA Accredited?
In order to become accredited, a veterinary hospital must be evaluated on over 900 standards of veterinary excellence. These standards are regularly reviewed and updated to ensure that they stay current with scientific and technical advancements, as well as other new developments in veterinary medicine.
AAHA standards address the following areas of veterinary care:
Patient Care
Examination Facilities
Diagnostics
Anesthesia
Laboratory
Pharmacy
Medical Records
Contagious Diseases
Emergency & Critical Care
Client Service
Continuing Education
Cleanliness
Housekeeping & Maintenance
Leadership
Referral Standards
Safety
To maintain accredited status, veterinary hospitals must undergo a comprehensive, on-site evaluation every three years to ensure that they are meeting and practicing veterinary medicine in accordance with the AAHA guidelines. This includes a broad range of requirements in each of the categories, many of which involve specific protocols and/or procedures, as well as extra steps and detail well above those generally accepted in the veterinary field.
How Does an AAHA Accreditation Benefit Your Pet?
Accreditation through the American Animal Hospital Association ensures that a veterinary practice is operating within the highest standards of excellence. In order to practice medicine at the level required by these standards, veterinarians at accredited hospitals are also required to have over 50 hours of continuing education each year. All support staff, including, veterinary technicians and assistants, are also required to stay current on new trends and practices in their areas of expertise.
By choosing an AAHA accredited practice for your pet's care, you are ensuring that your pet is in very good hands.
AAHA Accreditation at Lone Tree Veterinary Medical Center
The AAHA accreditation process is the opportunity for us to be critiqued and to receive feedback regarding what we are doing well, along with recommendations on what we can do better. Meeting these stringent standards is a challenge we gladly accept, as it helps us in achieving our goal of providing the highest quality care for your pet.
If you have any questions about the AAHA accreditation at Lone Tree Veterinary Medical Center, please don't hesitate to ask! We look forward to hearing from you.