Veterinarians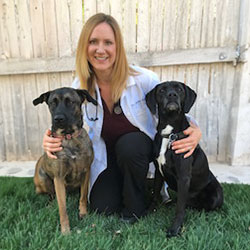 William J. Moyle, DVM, DABVP
Dr. Moyle earned his Doctorate of Veterinary Medicine from the University of Illinois in 1964, and has been practicing veterinary medicine ever since. As the owner and founder of Lone Tree Veterinary Medical Center, he has a life-long commitment to the care of companion animals, and demonstrates it with his wealth of knowledge and experience in all areas of small animal medicine.
Dr. Moyle is board certified in Canine and Feline Clinical Practice with the American Board of Veterinary Practitioners (ABVP), which further exemplifies his medical expertise in both dogs and cats.
While Dr. Moyle enjoys the challenges and rewards of helping both dogs and cats, he is also experienced in the general care of pocket pets and in the cosmetic care of birds.
Dr. Moyle holds a special interest and expertise in orthopedic surgery, and is our certified T.P.L.O. (Tibial Plateau Leveling Osteotomy) orthopedic surgeon. As the result of his extensive surgical experience and commitment to helping pets stay mobile and active, he has helped hundreds of pets with orthopedic problems resume normal, physically active lives.
Dr. Moyle believes that all pets deserve to have a good life through the benefits of modern veterinary medicine and the comfort of a loving home. He is a strong advocate for preventive medicine and believes that proper diet and weight management, along with daily dental hygiene and exercise, are all key components of helping pets live long and healthy lives.
When not caring for pets, Dr. Moyle enjoys spending time with his wife and two Standard Schnauzers, Cole and Willow. An accomplished athlete, he also participates competitively in several sports, including, handball, trail running, snowshoeing, and cycling. His most notable accomplishments include a "number two" ranking with the U.S. Handball Association and several first-in-age-group finishes in local mountain trail running and snowshoe marathons. Among his most favorite Colorado events are the Pikes Peak Ascent and the Pikes Peak Marathon, and the Imogene Pass Run from Ouray to Telluride.
L. S. Burstein, DVM
Dr. Burstein earned his Doctor of Veterinary Medicine degree from the University of Missouri in 1992.
Although trained in all areas of veterinary medicine, he is also interested in non-traditional pets and exotics, having worked with them in a variety of capacities while practicing at the Knoxville Zoo in Knoxville, Tennessee.
Dr. Burstein has been on our medical team since 2004, and enjoys helping dogs and cats of all sizes, as well as rabbits, ferrets, guinea pigs, rats, and mice.
He believes that all pets deserve to have good lives through regular preventive care, corrective treatment when needed, and a safe, nurturing environment in which to live.
Dr. Burstein likes to spend his free time with his wife, a demanding cat named Candide, and three adopted shelter dogs named Sapphire, Osa and, newest addition, Rusty, who was an orthopedic patient in our Mercy Care Program. Also skilled in iron forging, he enjoys spending creative time in his forging studio, making iron tools and implements that are both artistic and functional.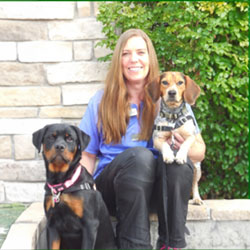 Bryan Voss, DVM
Growing up in Michigan, Dr. Voss always dreamed of one day moving to Colorado after frequent ski vacations here with his family. Once he met the special staff members at Lone Tree Veterinary Medical Center, he knew it was time to finally make the move west and in May of 2015, he joined our medical team.
As a second generation veterinarian, Dr. Voss's interest in veterinary medicine was sparked early on, spending his younger years under his father's tutelage at their veterinary practice in the upper Midwest.
After completing high school, Dr. Voss went on to earn a Bachelor of Science degree in Zoology from Michigan State University. He continued his quest for several more years, completing his clinical year at Cornell University and graduating with his Doctorate of Veterinary Medicine from Ross University in 2010.
Following graduation, Dr. Voss spent several years working at a busy small animal practice in Central New York, where he gained considerable experience in surgery, internal medicine, and the care of small exotic mammals. Although he enjoys all facets of small animal medicine, he has particular interests in orthopedic surgery, oncology, and geriatric care. In addition, he is experienced in the cosmetic care of birds and in the general care of rabbits, guinea pigs, hamsters, and pet rats.
Dr. Voss favors a compassionate and transparent style in his practice of veterinary medicine and encourages communication with his clients about the care of their beloved family pets.
When not practicing at our facility, Dr. Voss can usually be found spending time with his wife, his two small children, and a German Shepherd mixed breed dog named Winter. He also enjoys golfing, snowboarding, rock climbing, and cheering on his favorite collegiate football team, Michigan State.
Amber Korner, DVM

Dr. Korner grew up in California and first knew she wanted to be a veterinarian when she was in the third grade. She remembers always having dogs as a child and when at the family cabin during the summer months, wanting to examine the wild animals that frequently wandered onto the family property.
Dr. Korner earned her Doctorate of Veterinary Medicine at the University of California at Davis (UC Davis) in 2012. She earned her Bachelor of Science degree in neurobiology, physiology and behavior at UC Davis in 2007.
During the course of her academic studies, Dr. Korner volunteered at local animal shelters and assisted with veterinary care in any way she was needed. She also worked at the California Raptor Center where she was actively involved in the care and public presentation of raptors during their rehabilitative process. In her later academic years, Dr. Korner assisted in several research studies at the UC Davis Veterinary Genetics Laboratory and the Animal Science and Companion Animal Behavior department.
As a DVM, Dr. Korner has worked in a variety of clinical environments, including, small animal general practice, emergency medicine, and veterinary neurology specialty practice. With her broad areas of expertise, she has managed a wide variety of medical cases across many different species. Her most extensive work has been in the area of veterinary neurology, where she spent four years as an associate in neurology at a veterinary specialty hospital in Southern California.
Dr. Korner truly enjoys utilizing her unique skills and knowledge in solving the medical problems of the patients she sees. She also believes that clear communication with pet owners is vital in helping them understand the needs of their pets, any course of treatment or tests being recommended, and why these recommendations are important in helping their pets be well and live a healthy life.
When not at our facility, Dr. Korner enjoys spending time with her husband and daughter, and their two dogs, Aiden, a boxer-pointer mix and, Charlie, a lab-shepherd mix. She also loves hiking, backpacking, and bicycling. Having been a goalie during her college years for the UC Davis Women's Water Polo team, she especially loves any activity that involves water.
Lisa Boals, DVM
As a young child, Dr. Boals had a love for animals and read any book about animals that she could get her hands on. Of her many favorites were the classic stories by James Herriot, a veterinarian who lived in Yorkshire, England back in the 1930's.
Dr. Boals has many fond memories of herself as a youngster dusting off the old microscope kept by her mother (who had been a medical technologist) to look at medical slides and the tiny creatures that lived in the water in a nearby pond. She continued to pursue those 'creature' interests while utilizing a scholarship to obtain her Bachelor's Degree in Microbiology at Mississippi State University in 2003. She continued on at Mississippi State for the next several years to study veterinary medicine, where she earned her Doctorate of Veterinary Medicine in 2008.
After graduation, Dr. Boals moved to Denver, which was a logical place to begin practicing the profession she loved, having first fallen in love with Colorado while visiting the state as a child.
During the many years since, Dr. Boals has continued to practice small animal general medicine in the Denver area and loves the special bond that people in Colorado share with their furry family members.
Her favorite part of being a veterinarian is being able to help lengthen and strengthen the human-animal bond through preventative medicine, proper nutrition, and good dental care. Whether she is helping puppies and kittens start off on the right 'paw' with their families or maintaining that strong bond through geriatric and end of life care, Dr. Boals enjoys making pets' lives better every step of the way.
Having always loved books and movies about medical mysteries, Dr. Boals has a strong interest in diagnostic medicine and has participated in several veterinary research studies. She has also pursued additional training in cardiology, ophthalmology, cytology, dentistry and internal medicine.
When not caring for pets, Dr. Boals enjoys skiing and fly fishing with her husband, hiking 13'ers, and photographing the natural beauty of Colorado. She and her husband share their household with an 11 year-old Golden Retriever named TJ.
Lisa Pepmeyer, DVM
Dr. Pepmeyer has been practicing veterinary medicine for over 28 years, and brings substantial knowledge and experience to the fore with every pet she sees. She has been a part of our veterinarian team since 2012.
Having grown up in Ft. Lupton, Colorado, she remembers always having an intense interest in both animals and the outdoors, and decided to combine these passions into her career as a veterinarian.
Dr. Pepmeyer pursued this quest by earning a Bachelor of Veterinary Science degree at the University of Colorado in 1982, after which she continued on to earn a Doctorate of Veterinary Medicine from Colorado State University in 1986. Over the course of the next decade, she refined her medical skills as an animal emergency critical care veterinarian.
Dr. Pepmeyer has continued to expand her expertise in general clinical practice in both small and large animal medicine and surgery over the many years since.
In addition to her medical skills, Dr. Pepmeyer holds a Class II Health Certificate License and is well-versed in the often complex details of transporting pets to other countries around the world.
Dr. Pepmeyer enjoys all aspects of being a veterinarian, including, interacting with the humans attached to the pets she cares for.
When not practicing veterinary medicine, Dr. Pepmeyer enjoys reading books and journals on a wide range of topics, being in the outdoors, and sharing time with friends who play in local country-rock music bands. Her most favorite past time, however, is hanging out with her menagerie of pets, including, two Saddlebred horses, Jack and Vinne, six cats - Baxter, Fidget, Shorty, Elway, Ember, and Quiver – and a variety of wild animals that frequently visit her property.
Professional Groomers
Jill Squires

Salon Manager
Jill is a graduate of the Colorado Career Academy and the advanced program in New Techniques & Breed Standards at the Paragon School of Dog Grooming. A professional groomer for over twenty years, she has provided grooming services at our facility since 2001 and has served as manager of our Salon since 2011. Jill loves working with pets and grooms all breeds of dogs and cats. She is shown with her Beagle, Hank, and Rottweiler, Miesha.
Check out our Grooming services here!
Natasha Lindsey
Natasha is a graduate of the Penn Foster Career School and has been grooming professionally at our Salon since 2004. An animal lover at heart, Natasha provides grooming services for all breeds of dogs and cats. She currently lives with her cat, Musha and is shown with her first Malamute, Simba.
Check out our Grooming services here!
Pet Behavior Specialist
Will Bruner
Will has worked professionally as an animal trainer since 1992, focusing initially on exotic animals in zoos. In 1996, in addition to his zoo training work, he began providing in-home dog training and animal behavior consultation. He found that the same training techniques he had used with dolphins, tigers, and birds of prey in their zoo environment transferred easily to helping people with their pets in the home.
As a result, he expanded his animal training to include companion pets. With a focus on training dogs, he also works with cats, birds, and other small animals.
For over 20 years, Will has perfected his practice of training dogs and continued fulfilling his passion for improving their lives with his time-proven techniques and the use of positive communication.
Will's training philosophy is based on three primary principles: Consistency, honesty, and rewards. He believes that training works best, not when trying to control your dog, but when you are communicating with your dog. Dogs need structure and challenges – both physical and mental – but to be happy and content, they also need praise! It is his goal to help both dogs and their owners achieve this balance in their relationship as life-long companions.
Will believes strongly in the Canine Good Citizen program and has been an AKC Approved Evaluator since 2010. He has also competed in obedience and agility with his own dogs and has added popular sporting classes to his training programs, including Scentwork and Treibball. After participating in the first US Treibball classes conducted in Colorado in 2010, Will went on to compete in the first sanctioned Treibball competition in Arizona in 2014. He is also certified as a judge and trainer for the American Treibball Association.
Will is a professional member of the Animal Behavior Management Alliance (ABMA) and participates in several professional organizations related to zoo and animal training. Always happy to help with your pet training needs, he is available Tuesday through Saturday for consults, classes, and private lessons. Learn more about our Behavior Training here.