The Keys to Successful Airline Travel with Pets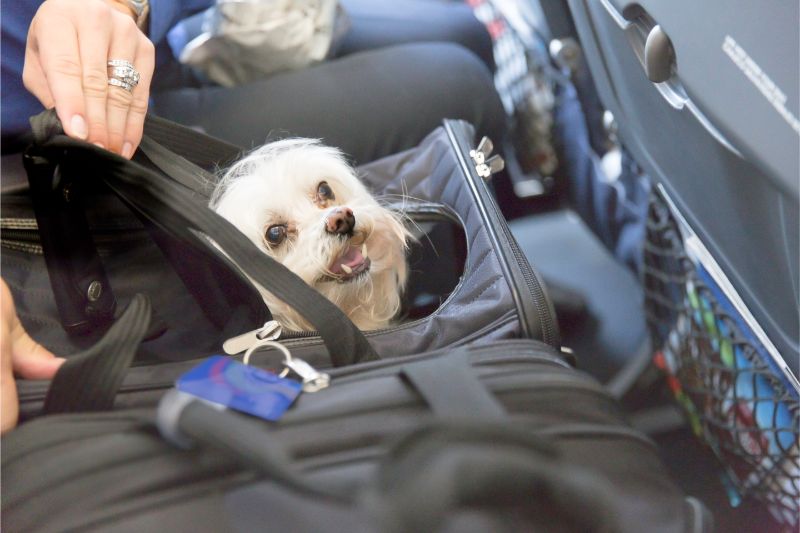 Traveling with a pet can be fun, but it also presents some significant challenges: Picking the best mode of transportation, finding a pet-friendly place to stay, knowing what you will do with your pet once you're there, and all the extra packing, organizing, and worrying that goes along with bringing a four-legged companion on a vacation or long distance trip.

Airline travel with pets, in particular, can be a lot of work, but with planning, preparation and a little help from your Lone Tree Veterinary Medical Center team, you and your pet will be jet-setting off into the sunset in good style.
Getting Started
Your first step when it comes to airline travel with a pet is to bring it in to see us for a physical exam to make sure your pet is healthy and has the required vaccinations needed for travel to your destination. Airline travel, especially overseas, requires you to have a veterinary health certificate, prepared by your veterinarian. Foreign countries can vary widely in their entrance requirements for pets and they frequently change without notice. Call us as soon as you know your destination so we can get your pet started on the process. Time is of the essence, as it can often take several weeks or even months to complete all requirements for foreign travel.  
New Rules and Regulations
In light of past fatalities involving pets traveling by plane, several major airlines have changed the rules and regulations for pets. Do your research ahead of time and figure out which airline will best meet the needs of you and your pet. Take the following into consideration:

Your Pet's Carrier – The list of requirements for your pet's carrier is long. Be sure that your carrier meets all listed requirements for air travel with your airline and that you've followed the instructions on pre-flight feeding, water, and labeling on the carrier.
Train Your Pet – Whether you pet will be staying in the airplane cabin or in cargo hold, it is imperative that your pet is well-adjusted to and comfortable in its carrier! If your pet meets the requirements for travel inside the airplane cabin, it is only polite and considerate of other travelers that the pet is well-behaved and in your control at all times.
Breed Regulations – Some airlines have a flight restriction on certain breeds due to health concerns that could be aggravated during flight. Short-nosed pets such as pugs, Persian cats, and bulldogs fall into this category due to their shortened airways and the concern that air travel could exacerbate breathing problems. Do your research before you make your reservations.
Health Concerns – Airline travel, whether in the main cabin or in the cargo hold, can be extremely stressful for any pet, and when added to the noisy and chaotic environment of an airport or the unfamiliar environment of a cargo hold, an existing health problem can become worse or a new one can develop. Pets are also more sensitive to sights, sounds, and smells than we are, which can leave them very frightened and agitated. Be considerate of your pet's needs and sensitivities when deciding if airline travel is a suitable travel mode for your pet.
Layovers – New regulations limit the number of cities pets can be routed through to reduce the risk of them being misplaced, and to ensure that they reach their destination as soon as possible. Seek to always schedule a direct flight and make sure your pet is on the same flight as you.
Service/Therapy Animals – Regulations regarding service and therapy animals traveling with their handlers in the cabin have been tightened recently. Make sure you know what documentation is required, including, medical documentation, veterinary health certificate, and certificate of training. Ask if there is a separate fee or if you must purchase a seat reservation for your pet.
Pet Safety – Many airlines place restrictions on pets traveling in the cargo hold during hot and cold weather, allowing travel only during the spring and fall months. United Airlines prohibits any pet cargo travel to Phoenix, Tucson, Palm Springs, or Las Vegas between May 1st and September 30th. Regardless, there are inherent risks to pets whenever they travel in cargo and every precaution should be taken to ensure their safety and comfort. Carefully research the airline's policies and protocols, as some are far better at ensuring pet safety than others. Also, consider where your pet will be taken when offloaded from the plane, will that area be safe and temperature controlled, and how long will your pet be there before you can pick it up? You do not want your pet left on a tarmac, in a hot or cold holding area, or in any unattended place.
Pet Transport Airlines – In recent years, a few small private airlines have begun specializing in transporting pets in the safety and comfort of the plane's cabin, where the pets are monitored by a trained attendant during flight. Although this may appear to be a luxury service, it could easily be the ideal choice to ensure your pet's comfort and safety for year-round or long distance travel. 
When To Avoid Air Travel – If your pet is ill, recovering from an illness, in a weakened state due to another problem, recently had surgery, is older or disabled, you should consider another mode of travel. If in question, discuss your pet's health status and whether it is safe for your pet to travel by air with your veterinarian.
Safe Airline Travel with Pets
Since we know airline travel is extremely stressful for pets, there are things you can do to make the big day go more smoothly and safely for them.

Make sure your pet is wearing its collar and ID tags, update its microchip if you haven't already done so, and securely attach a current photo of your pet to its carrier.
Feed your pet a light meal 4 hours before you leave for the airport.
Exercise your pet right before you leave for the airport.
Pack plenty of water for the trip to the airport and for the flight.
Allow your pet to take a potty break upon arriving at the airport and prior to entering the terminal.
Pets can and do get neglected during airline travel. Notify airline staff of your pet's presence, and check in on your pet often.
If you're thinking of traveling by air with your pet, please contact our staff for more information  or to schedule an appointment with our veterinarian. We are always happy to answer your questions about traveling with a pet.