Posts Tagged: Cat Grooming Practices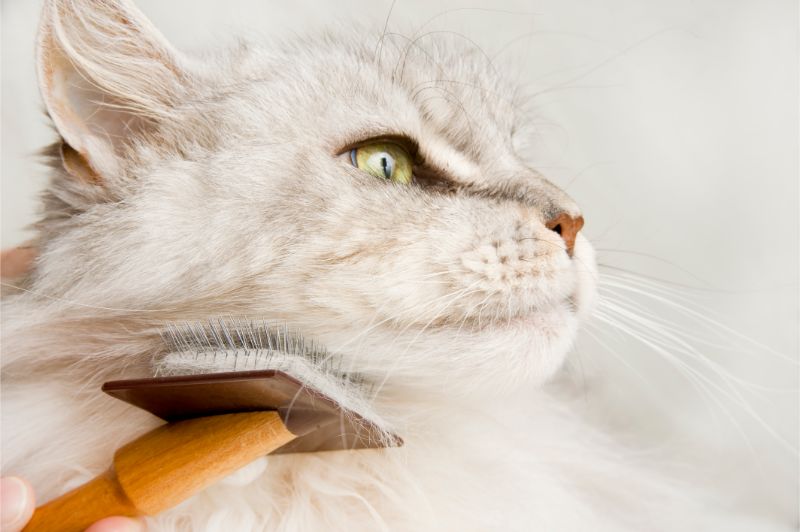 Cats are clean by nature. In fact, it can sometimes seem that your cat spends half its time washing its face and ears, smoothing down fur, cleaning out paw pads, and generally keeping him or herself beautiful.

Regardless of how well your cat takes care of itself, most cats can benefit from a little help. Home cat grooming can help you keep a close eye on your cat's haircoat, skin, and nails, as well as decrease hairballs by removing loose fur. It can also help deepen the bond you share with your feline companion. Finally, home grooming can help ward off that dreaded visit (by your cat) to the groomer to correct matting and other problems that can result when regular maintenance needs are not addressed.  
Continue…
Hairballs are an unfortunate part of life for most cat owners. That low, hacking sound you can hear from anywhere in the house is the telltale sign that kitty is about to deposit hairballs in the least convenient place possible.
While it's easy to assume that coughing or vomiting in cats is caused by a hairball, this isn't always the case. Frequent coughing or vomiting in cats is not normal, and may indicate an underlying health problem.
Hairballs 101
Hairballs are the result of undigested hair left over from our cats' fastidious grooming habits. Hairballs (also known by their scientific name "trichobezoars") are not actually ball shaped; rather they are cylindrical, taking the shape of the cat's esophagus as they are regurgitated. No cat is immune to hairballs, but longhaired varieties are certainly more prone. Continue…