Lifelong Learning at Lone Tree Veterinary Medical Center's Canine Academy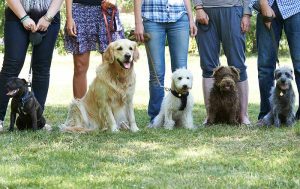 Wouldn't it be wonderful if your puppy or dog arrived at your doorstep with perfect manners? Unfortunately, we all know this is hardly the reality. All dogs, regardless of age, require at least some training in order to learn how to navigate life with humans. At Lone Tree Veterinary Medical Center, we understand the importance of humane obedience training. That's why we employ a full-time certified dog trainer and offer a wide variety of training options in our Canine Academy program.
Behavior Matters
A well-behaved, properly socialized dog is a joy to be around and makes for a much safer environment. Untrained dogs pose a risk to other people, animals, and themselves, making obedience training as much about safety as it is about good behavior.
Properly trained dogs are also easier to bring along on hikes, camping trips, and other outings. Being able to include the family dog in your adventures is fun for everyone, and these shared experiences add up to a wonderful life together.
The Canine Academy
The Canine Academy is an integrative program where each class can work on its own or build on the next. Because each dog is unique, we make sure to offer several levels of classes and lessons. Our certified dog trainer, Eric, has been training dogs professionally for over 20 years and is sure to match your dog with the class or program that will suit your needs and training goals.
In addition to our Perfect Puppy and Companion Dog Essentials I classes that focus on basic obedience skills, we also offer:
Companion Dog Essentials II

– Focuses on the advanced mastery of all basic commands and skills learned in our puppy and basic skills classes, and adds the mastery of skills in the presence of everyday distractions.  
AKC Canine Good Citizen

– Perfects basic skills by focusing on developing confidence and self-control, and the ability to behave in a mannerly way while at home, in public places, and when around other people and other dogs. Dogs that pass the test at the end of this course are awarded the AKC Canine Good Citizen certification.

Canine Life and Social Skills

– Takes your dog's basic obedience skills to the next level with a focus on successfully navigating real life situations as a team through good communication and trust.

Agility

– For the active dog that wants to learn to navigate a fun obstacle course while performing skills on command.

Rally O'

– Combines agility and fun as dogs compete for accuracy and speed along a set course, all while listening and responding to their owners' commands.

Barkour

– The high-energy, parkour-style class that's perfect for

active dogs

that enjoy traversing a challenging course of outdoor obstacles.  
Companion Protection Perception

– A creative, fun way to teach your dog to sit or stay at your side and appear to be guarding you when it's really not.

(Note:This is a fun, recreational class only and not for the purpose of training a dog to take any physical action.)   
Private Lessons –

One-on-one, hour-long training sessions that are available at our facility or in the home setting.
Weekly Play Camps

– A wonderful way for dogs to learn social skills, burn off energy, and enjoy each other's company while indoors in our training room under Eric's supervision.

Training while Boarding

 – Private one-on-one training is available by the session to guests staying in our Boarding Lodge. For more intensive one-on-one training, dogs can also be enrolled in our one and two-week Boarding School program.
Bonding and Beyond
At Lone Tree Veterinary Medical Center, we believe in the importance of maintaining a healthy relationship with your pet. We also believe in the value of dogs and people enjoying each other's company and having fun! Obedience classes at the Canine Academy will not only deepen the bond you share with your dog, you'll also enjoy the fascinating, positive experience of learning together in a safe environment.
We're proud to walk alongside you and your dog as you navigate life together. Please don't hesitate to contact our staff with any questions or concerns.